I am going to deviate from the typical intelligent and informative rambling usually found on my blog to show you some cuteness I have found on the world wide web. It's been a little slow in the Jackie Fo world, so instead of bragging about myself, I will brag on some fellow bloggers and the cuteness they have created. Mmmmkay?
First up:
Banana Pudding Bites
This lovely idea comes from
Pen n' Paper Flowers
. I adore this site and all the gorgeous creations it contains. Folks in blog world have probably been privy to her recent Lemonade and Sunshine bash that has been featured on every party blog out there! If you haven't been fortunate enough to see it
CHECK OUT THIS POST!
It's absolutely beautiful. But back to the Banana Pudding Bites. Take a look at the picture below and tell me you don't want to make these for your next party. See the full post on the banana pudding bites
HERE.
Next up is another individualized dessert that I absolutely LOVE.
Cupcakes in a Jar
These come from the fun blog
Mycakies.com
. For this dessert, red velvet cupcakes are put into tiny mason jars and used as party favors. So not only do you get a delicious dessert, you get a mason jar to keep! Cupcakes and Mason Jars?! They are definitely on my list of favorite things, so combining them might make my head explode. You can read the full post
HERE
. Check out the pictures below. A tip: she suggests piping the frosting into each jar so it doesn't get all smeary and gross looking on the sides. I think you can do the same with the banana pudding bites for a nice clean look. Perfection!
On to one of my favorite blogs, aptly titled:
Eat, Drink, Pretty
.
Tiffany Blue and Pink Bridal Shower
Everything she does is just gorgeous, and if you don't believe me, take a look at
her photo shoot
she styled for her 1 year blogiversary. DAMN GIRL! More recently, she threw a lovely shower for her sister. You can never go wrong with Tiffany blue and gorgeous flowers, food and creativity. See the full post here in
part 1
and
part 2
. Take a look a pictures below and start drooling. My favorite part? The champagne infusion bar. I WILL be using that idea for a shower one day, it's just too fabulous not to! I may even make
myself
a champagne infusion bar tonight. Just for me. Seems like a good idea.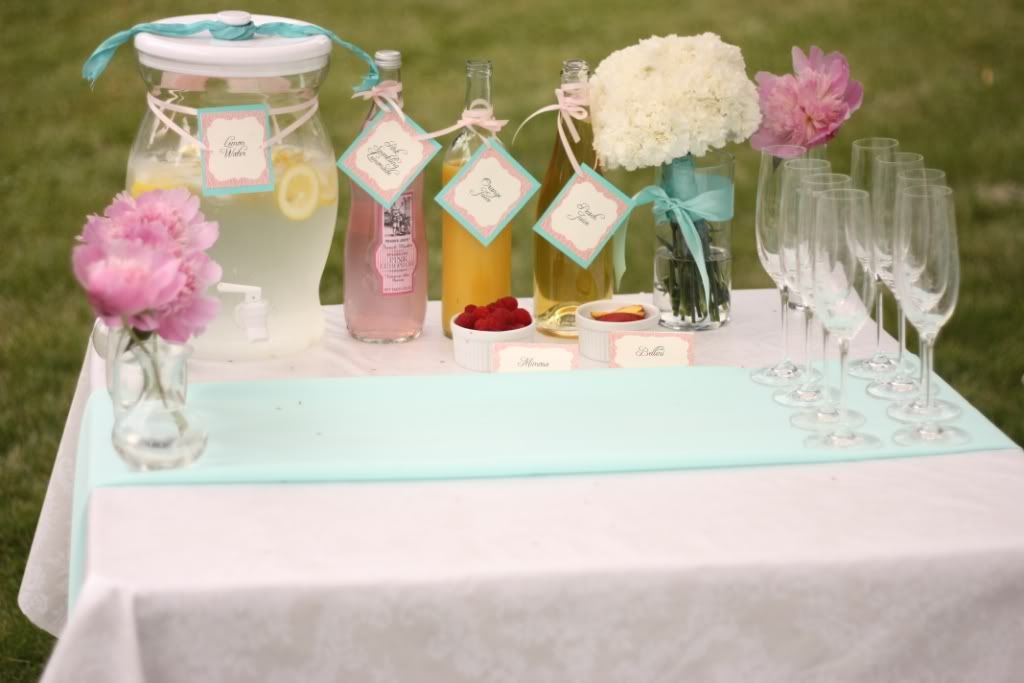 My next adorable find:
TEA TIME!
Kim, from
Frost Me blog
, debuted these adorable teabag cookies awhile back
(see post here)
but they need to be shared. How cute are these?! For a tea party, a shower or just for fun. To quote the supremely intelligent and not at all ridiculous Rachel Zoe, "I DIE." Check out Kim's
blog
for fabulous party inspiration.
And finally, as I do most days, I did a quick Google Image search of Edward. (If you don't know who Edward is, please leave and never come back. Joking - I love all you Team Jacob ladies out there - Jacob's not too shabby either.) I saw Eclipse the other night, and I realized that Edward's face is like the Mona Lisa - a complete work of art. He's almost too pretty to actually consider being with. I mean, he did ask me out a few times, but I'm happily married. (Love you Mr. Fo!) It's like, jeez Edward - know when to quit! It's NOT going to happen no matter how hard you try!
It's probably better this way as I don't want to be with someone who almost definitely weighs less than I do. But I can still admire the "art." More eye candy where this came from
HERE
.
Well everyone, I have bookmarked about a million cute things I have found lately, but I've got to save them for later. Jackie Fo has a life, you know! (It's filled with incredibly exciting and exhilarating things lately. Not so much. But a gal can dream.)
Check out these blogs (and Edward)... you won't be disappointed!